Main content starts here, tab to start navigating
Investments
The Franchise Disclosure Document
The following is an overview of the key benefits and investment required to be considered for a Baya Bar acai bowl and healthy food franchise. Complete details on how to own a juice bar are available in our Franchise Disclosure Document (FDD).
The Benefits of a Baya Bar Franchise
As a Franchisee, you will have the benefit of a comparatively low investment required to start up your acai blow and healthy food business. By owning a juice bar from Baya Bar you will benefit from the strength and backing of our established brand and and operating systems and enjoy the ongoing support of our Franchise team. You will have lower product and operating costs as a result of our buying power, and a proven business model that you can replicate as you start your own location. You'll also be able to leverage our strong social media presence, and most of all, be a part of our widely recognized – and loved – Baya Bar Brand.
Don't create your business from scratch when you can build upon our proven culinary innovation, marketing expertise, training, and systems
The Right New Franchise and Conversion Partners
We offer opportunities both for new acai bowl and healthy food franchises, and for conversions.
We are looking for new Franchise Partners who are hungry, personable entrepreneurs who would like to establish their own Baya Bar location, and who can take part in actively growing the Brand presence in the US.
To be eligible to be a Conversion Franchise Partner, you must be:
-Excited about the Baya Bar brand, and about becoming a part of our ongoing growth;
-Liquid for at least $250k;
-Friendly and personable;
-A problem solver who can work through challenges in the conversion process;
-Looking to grow your existing business through becoming a part of the Baya Bar brand.
We love owner-operators and do everything possible to provide support and resources to help them establish their own locations.
The Investment
Becoming a Baya Bar Franchise Partner requires an initial Franchise Fee of $30,000. The Royalty Fee is 5%, with an additional 1% of Gross Sales for local Marketing fees.
The Term of the Agreement will be for 10 years, with an option to renew at the end of the term.
Your total investment will range from $199,000 to $460,000, and will depend upon the budget required for:
-Equipment
-Build-Out
-Signage
-Deposits
-POS System
-Security Systems
-Office Setup
-Uniforms
-Opening Inventory
-Working Capital
-And more. Item #7 of the FDD outlines all of these items in detail.
The range of the required investment is wide due to the many variables; each situation will be different. Your chosen location, retail store size, number of employees, etc., will determine the total investment required. For example, converting an existing, eligible location may require a smaller investment than opening a brand-new location.
The following is a snapshot from our Estimated Initial Investment section of the FDD.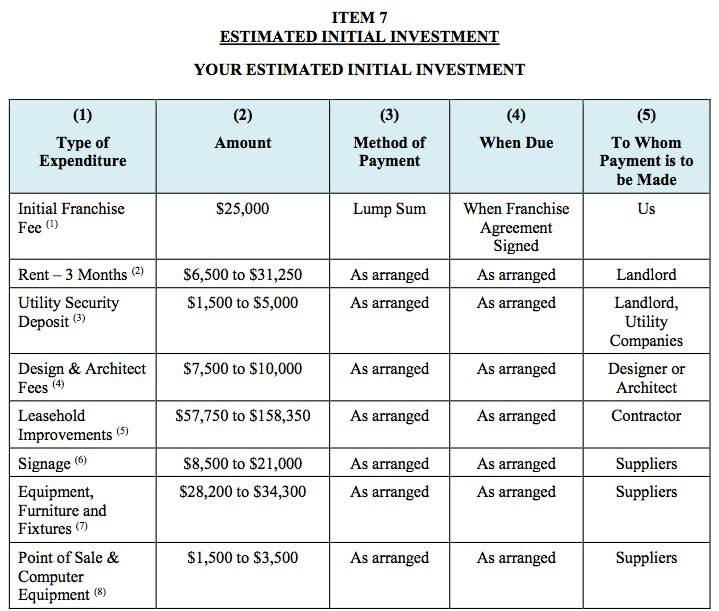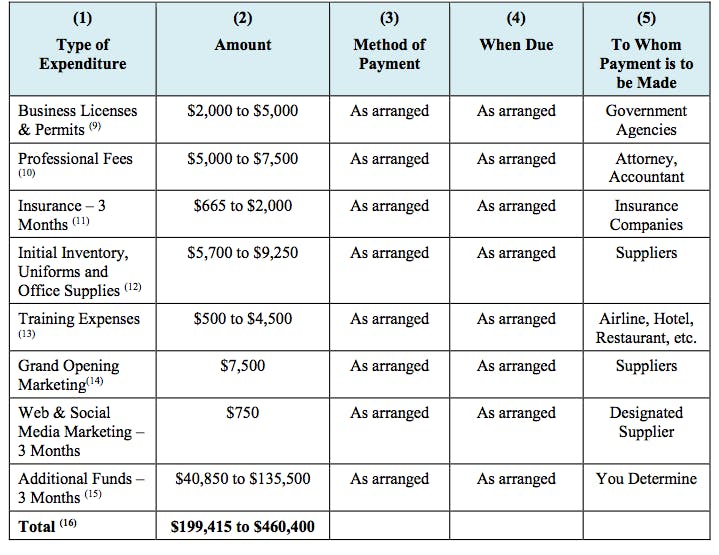 Each potential Franchise Partner's situation will be different. We would be delighted to discuss your specifics, and to get to know your particular position and objectives and how they might fit with a Baya Bar franchise.
For more details about the total investments or to download the full FDD, please click here to get started.